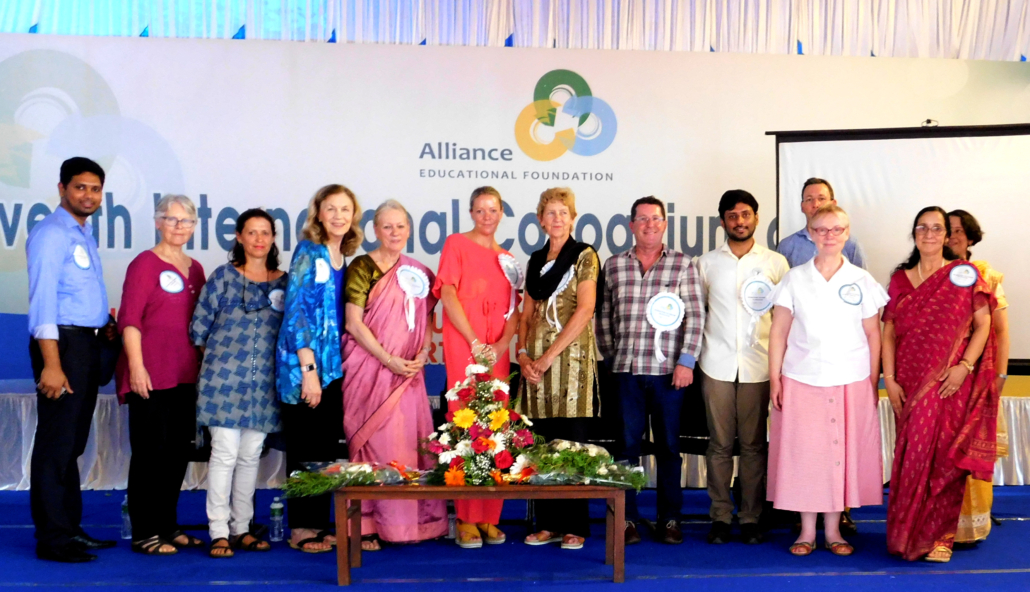 Guests and Organizers of the Inaugural Session of International Colloquium 2019
Alliance Educational Foundation has decided to offer the Colloquium this year in a digital format given the pandemic and our first concern for the safety of the school community and participants from India and around the world.  Please save the date for August 1st, giving us the opportunity to continue the Colloquium tradition in an exciting new format which has proven successful across the world.
We were fortunate in 2019 to have an inspiring panel of guests from around the world to participate and meet our school community. Please see their bios below:
Notable 2019 Colloquium Guests:
Mr. Didier Cadau – Partner of renowned chef Michel Basaldella, who has a French haute cuisine restaurant in the South of France. Cadau and Basaldella are planning to open an environmentally responsible "cuisine school" in Mumbai.
Ms. Hélène Danel – Vice-President, Blavet, Bellevue and Ocean Grouping of Municipalities (CCBBO). Ms. Danel has successfully implemented a circular economy project for the CCBBO school in Brittany, France.
Mr. Ravi Sinha – Head of Human Resources at Decathlon, India. Decathlon is a global sporting goods company and the second largest single-brand retailer in India.
Mr. Kunal Dhanwant – Decathlon team member from Bangalore who has helped lead two years of internships for Sri Adwayananda Public School's senior students.
Mr. Chandan Keerthi – Business Analyst and Market Strategist, collaborating partner with Mr. Cadau in the French cuisine school project.
Mr. Arun Krishnamurthy – Founder of the NGO Environmentalist Foundation of India. He is the recipient of the Rolex Awards for Enterprise in 2012.
Prof. Anne Stillman – University of Cambridge, England. Prof. Stillman teaches English at Clare College, Cambridge including courses in Practical Criticism, literature of the nineteenth and twentieth century (mostly poetry), and Shakespeare.
Guests will explore and reflect on an education where  the child is given a sense of freedom and the confidence to explore and discover in the learning process and also share their expertise with our school community. In previous years we have welcomed corporate leaders, educators, media personalities, economists, members of government, and world renowned  architects to name a few.
Feel free to browse the 2018 Colloquium Summary Report.
2018 Valedictory Address offered by Ms. Lina Ghotmeh
Travel Partner for International Colloquium 2019
The Taj Hotel Group has kindly offered a room upgrade for the International Colloquium participants at the Taj Vivanta Malabar, Kochi. Once you book your travel, kindly let us know.
Dr. Benjamin, Big History exponent from Michigan at Colloquium 2015
Dr. Anne Stillman, Professor, University of Cambridge speaking at Colloquium 2018 Valedictory
UNESCO has supported the Colloquium series since its inception in 2013 and in a congratulatory message for the Fourth Colloquium, the UNESCO Director of India, Bangladesh, Bhutan, the Maldives, Nepal, and Sri Lanka, Mr. Shigeru Aoyagi stated:
"…All young people need to learn in active, collaborative and self-directed ways in order to flourish and contribute to their communities. Along with the basics, they need to acquire positive attitudes, values, and skills as well as information. The teachers, peers, communities, curriculum and learning resources must help them to recognize and respect human value, as well as equip them with the relevant skills and competencies for 21st-century employment opportunities…".
The Sixth International Colloquium had a wonderful lineup of speakers from different disciplines around the world.