The Lower Primary Section of the school received severe damage from the recent floods. The library, canteen, storerooms, several classrooms and offices were completely destroyed. The High School and Upper Primary Section wells were also damaged. Work is going on to restore the LP buildings, furniture and technology losses as quickly as possible.
Supporting Alliance Educational Foundation helps enhance the lives of the children at our school. All donations are used to support the school and have in the past helped maintain our libraries, computer labs, play equipment, and equipping our science lab to name a few areas.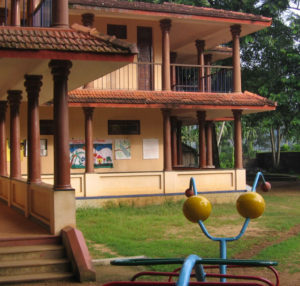 Alliance Educational Foundation accepts donations via PayPal, credit card as well as by cheque and is grateful for your support.
If your donation is a tribute or memorial, please let us know so we can send an appropriate notification. To discuss planned giving opportunities, contact us online or at +91 (468) 2317 675*
*Alliance Educational Foundation is a tax-exempt charitable society registered under the Travancore-Cochin Literary, Scientific and Charitable Societies Registration Act 1955 (charitable number A378/85)